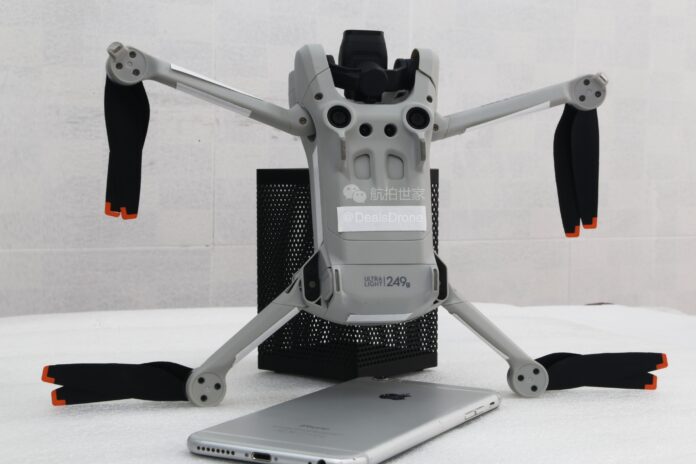 The DJI Mini 3 has been spotted in the wild as it nears its expected April 28 release date.
Tipsters DealDrone and Jasper Ellens began the day by flooding twitter with grainy spy shots showing both the drone on the ground and in flight. Among the photos, we saw what appears to be the DKI RC as well – a new remote control with built-in screen is expected to launch alongside the Mini 3. It wasn't long, however, before DealsDrone got their hands on studio photos of both the drone and the RC, which were likely commissioned by DJI.
Take a look:
According to the studio images, the gimbal protectors indicates that the Mini 3 will come with a much larger lens than its predecessors. It has been reported that the Mini 3 camera have a maximum aperture of f/1.7 which will allow the sensor to take in more light and help improve low-light performance.
Today's photos also confirm a major redesign of the drone, making it look similar to its big brother Mavic 3. There are two large obstacle avoidance sensors on the front of the Mini 3 drone. For better wind resistance and flight time, the arms are longer and support bigger propellers. In comparison to the Mini 2, the drone is expected to have 2453 mAh battery.
As of now, it appears that the Mini 3's spec sheet is just around the corner. Check out TechLifeTravel.com for further updates!